Besides being a photographer, the other hat I wear is a graphic designer! Before going full-time freelance, I worked with a marketing company as their digital specialist and photographer…meaning I did branding and design, web design and development, and some photo/video! Needless to say, I did a lot there! I discovered design is my second passion after getting a degree in graphic design at the University of Nebraska-Omaha. With that all said, one of the perks of working with me is that I include free invitation designs in certain packages (senior and wedding).
Your invitation suite and other print materials wrap up your wedding's branding experience, creating a cohesive extension of your party.
What is a wedding invitation suite?
Save the dates, invitations, and more…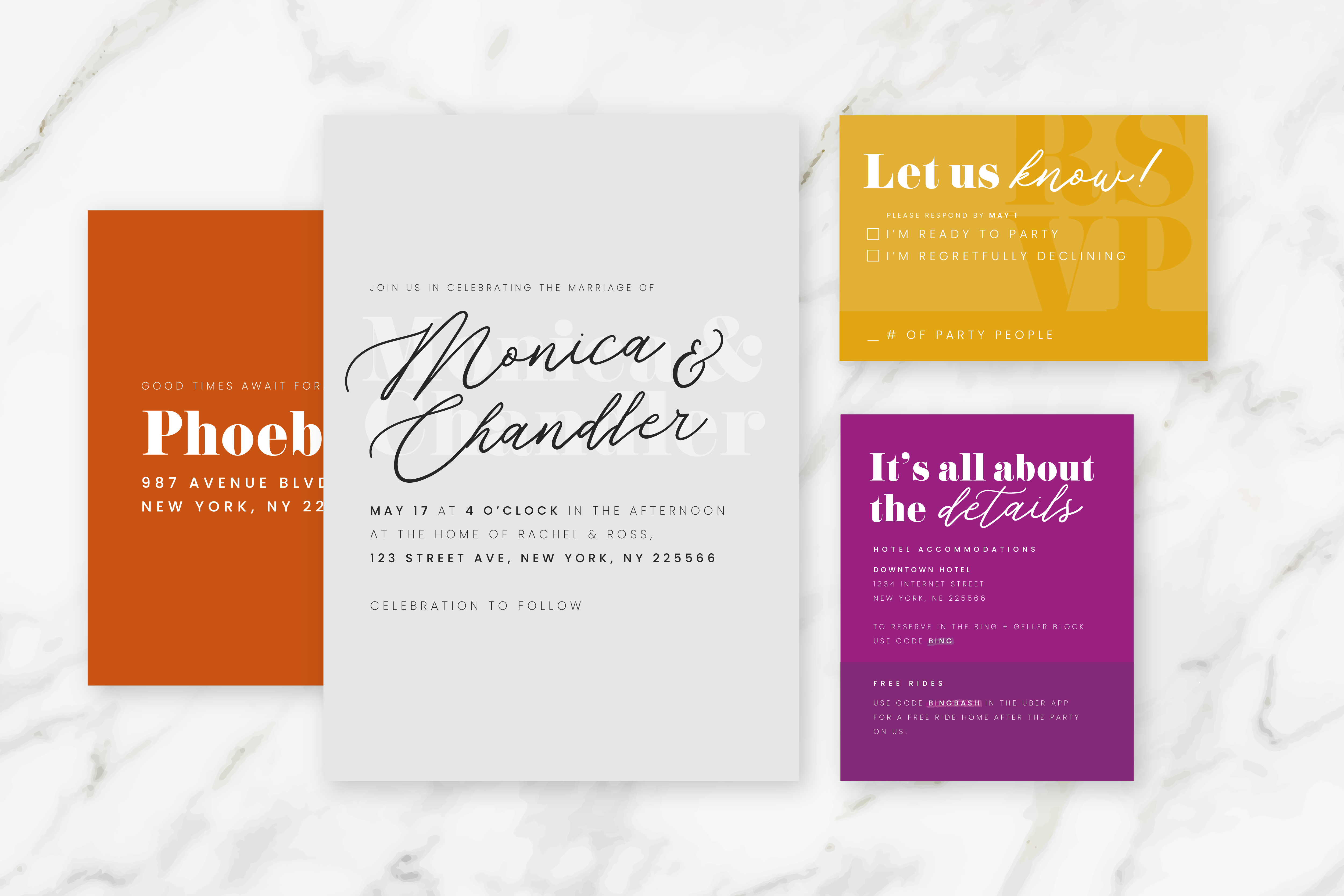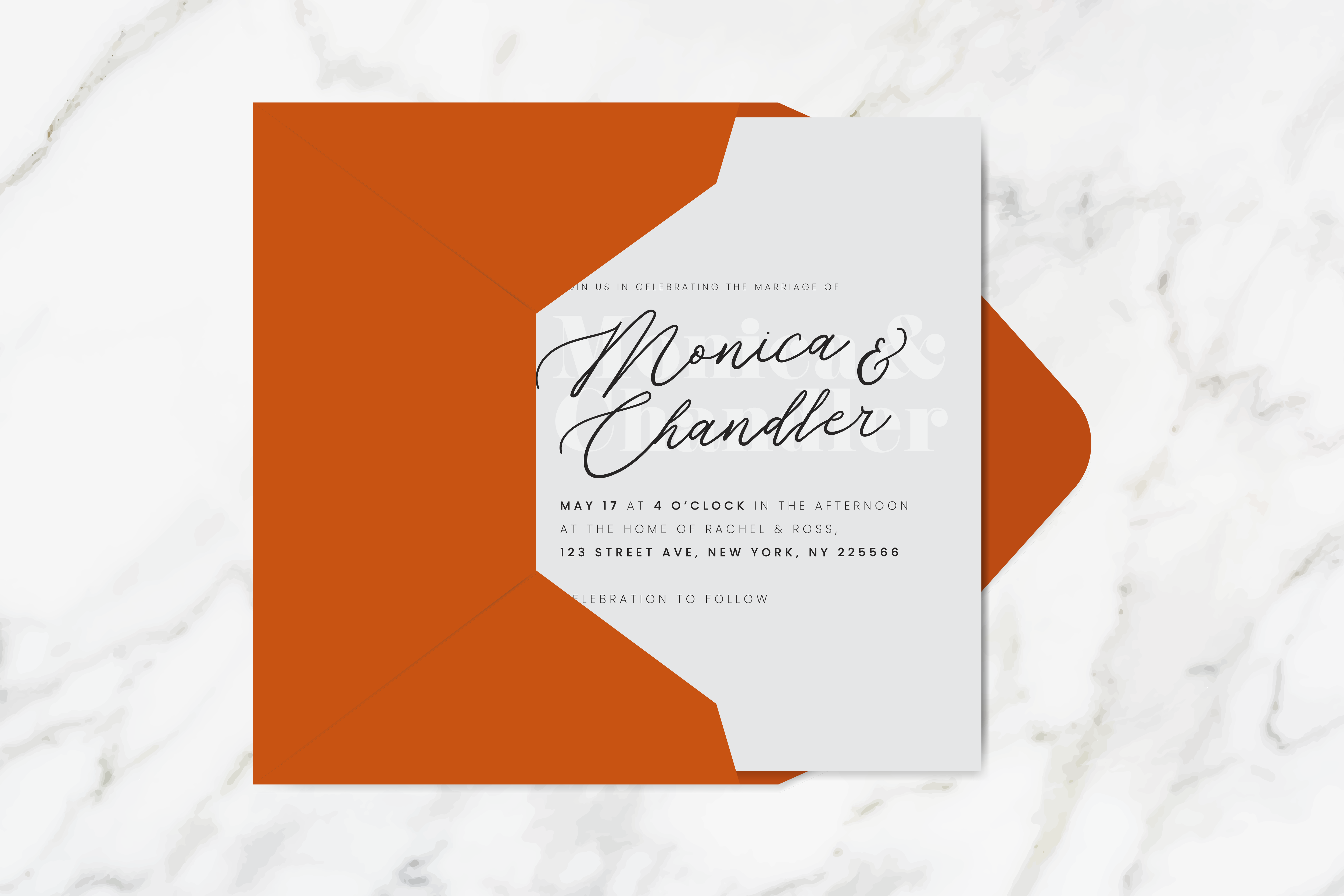 Typically, a wedding invitation suite includes your save the dates, wedding invitation, RSVP info, hotel accommodation info, direction cards, registry cards, rehearsal cards, thank you cards, programs and menus, and unique place cards. It's not limited to this list since all weddings need different things. I've also seen music request cards which is a fun, interactive, and personal touch for your guests.
Do I go all out with a suite or keep it simple?
It's NOT required to do all this crazy print material for your wedding and some of it may not even be necessary. Some can even be digital now! It's all preference and what is in the budget. Sometimes all that is needed to send is a save the date and an invite. It's totally ok to go the simple route!
Take into consideration what kind of info your guests need to know, how you are collecting RSVPs/meal options and your budget. This will help decide which route you should take!
What are my options?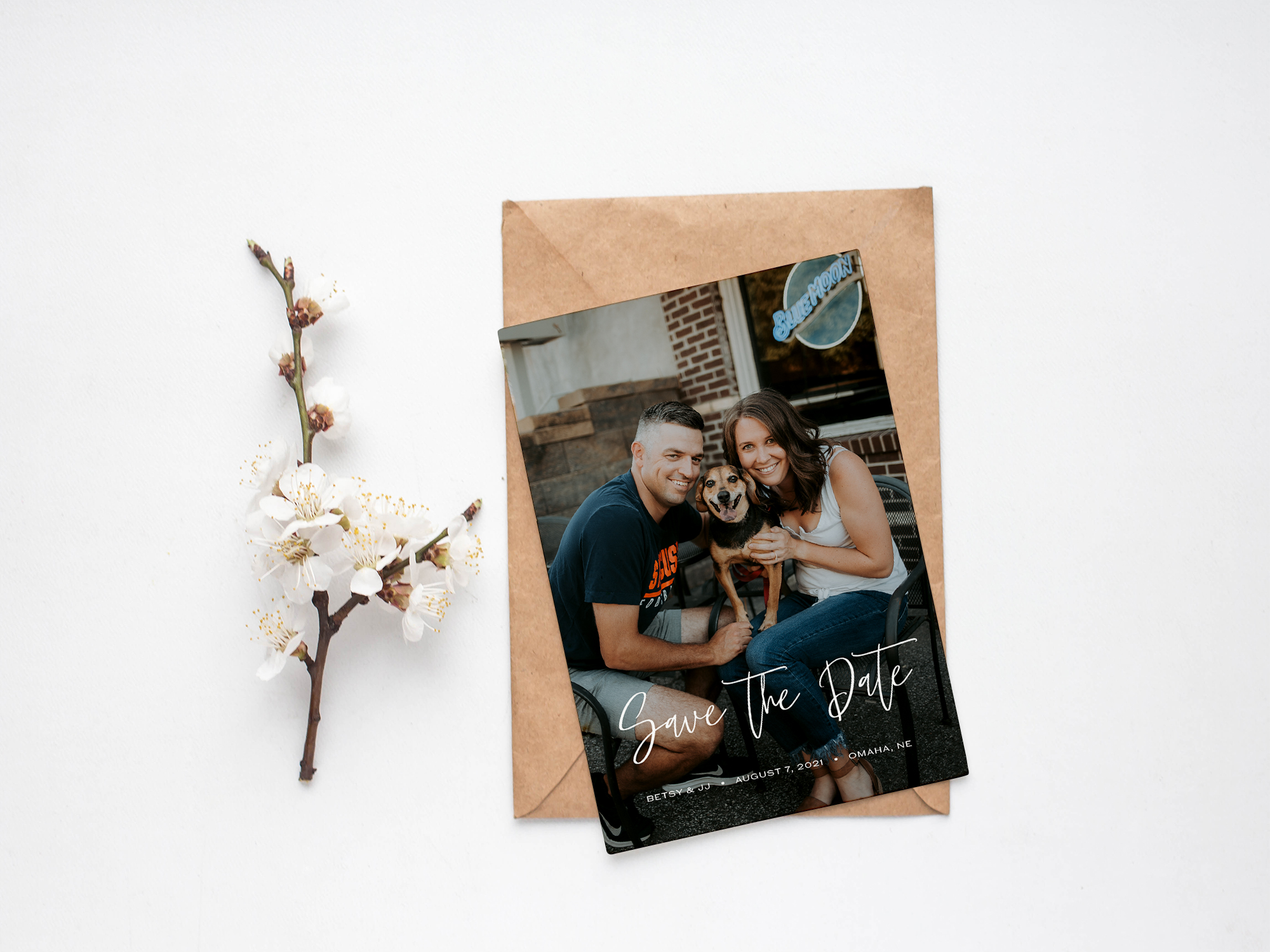 There are many design and printing options available out there. From metallic envelopes, calligraphy addressing, letterpress, gold foil, watercolor and so much more! When choosing my all-inclusive package, you'll get a custom-designed suite (pieces custom to what you want/need). There are also many resources for the DIY bride or groom! Sites like Basic Invite offer hundreds of pre-made templates where you can plug your information in and go!
Yes! Design is half the fun but the printing process is where it comes alive. There are so many options to further customize your invitation experience.
Typical printing options:
Corners: square, rounded, bracket, ticket
Foil: silver, gold, rose gold
Paper: cardstock, photo, clear, frosted
Envelope: basic, metallic, custom inside lining, seal-and-send
Some specialized printers may offer different options but most DIY online printing company like Basic Invite offers these awesome options.
When to send out invites?
When Do I send out my Save the Dates?
Typically, you should plan to send your Save the Dates 8 to 12 months prior to your wedding date. If you are having a destination or holiday weekend wedding, it never hurts to send them earlier so your guests can plan and save further in advance.
When Do I send out my wedding invitations?
Plan to send your official wedding invitation 1-2 months prior to the wedding date. If you are having a destination wedding, send your invitations as early as 3 months prior to the wedding date.
Do I need to send a Save the Date?
Maybe you are thinking what is the point of a Save the Date when I'm going to be sending a full invitation anyways? And maybe most people already know your date by word of mouth too. So what's the point? Save the Dates are popular so your guests can plan in advance if they need to take work off, find a babysitter, plan travel, save money, and so on. The only information needed on a Save the Date is who are we celebrating, the date, and AT LEAST the city and state that the wedding is in. If you have or are doing a wedding website, you may include that as well as it'll always be the same and update when you make changes.
So it's a pretty simple and considerate gesture for your guest!
Here is a great article about the do's and don'ts to Save the Date etiquette!
What information do my guests need to know?
It's pretty important to have clear communication with your guests. Not only on where and when the wedding is but what is expected such as attire, meal options, and WHO is invited.
Questions to consider:
Is your wedding close to home or is it a destination wedding?
Is your wedding going to be child-free?
Are you having a buffet or a served dinner? If served, what are the entree options? (Don't forget vegetarian options)
What should the guests wear? Cocktail dresses? Black tie? Would your uncle in jeans be acceptable?
What hotels are near the venue?
Do you have a registry?
How do guests RSVP?
Are there any special activities happening that guests need to prepare for?
Who has a plus one and who doesn't?
These are just a few quick questions that aren't obvious to help further guide what needs to be communicated on your invitations outside of date, time, and location.
What info should be on my invites?
Include your names, date, time of ceremony and reception, locations of the ceremony, and reception venue.
Also, include what to wear especially if it is formal or black tie or you want your guests in a specific color palette.
Here is a great blog post about formal wedding invitation etiquette!
What info should be on my Response Cards/RSVPs
Either include a link on the main invite to RSVP on your wedding website or include a separate Response Card that states specifically who is invited in the household and whether or not they have a plus one. This is also a good place for you to put the entree options to pick from if you are having a served dinner. Include your return address and stamp on the back like a postcard for an easy return.
If your wedding is child-free, it is best to state that either here or on the invitation.
PRO TIP: Number your RSVP cards and in a spreadsheet assign which guest had each number in case you receive a card without any names.
What info should be on my Hotel Accommodations Card?
Most weddings reserve a block of hotel rooms at a nearby hotel for the wedding party and guests on a first-come-first-serve basis. I would also include the second or even third nearest hotel information just in case the first becomes full. Make sure to include the hotel name, full address, and any codes associated with your reservation block. This is also a good place to state whether there is transportation provided between the venue and the hotel.
What about my registry?
The formal wedding etiquette is to not state you have a registry but in my option, you can do whatever you want! You can include a link on your invites or if you have a wedding website, have the registry link there.
Other details to consider after sending your invites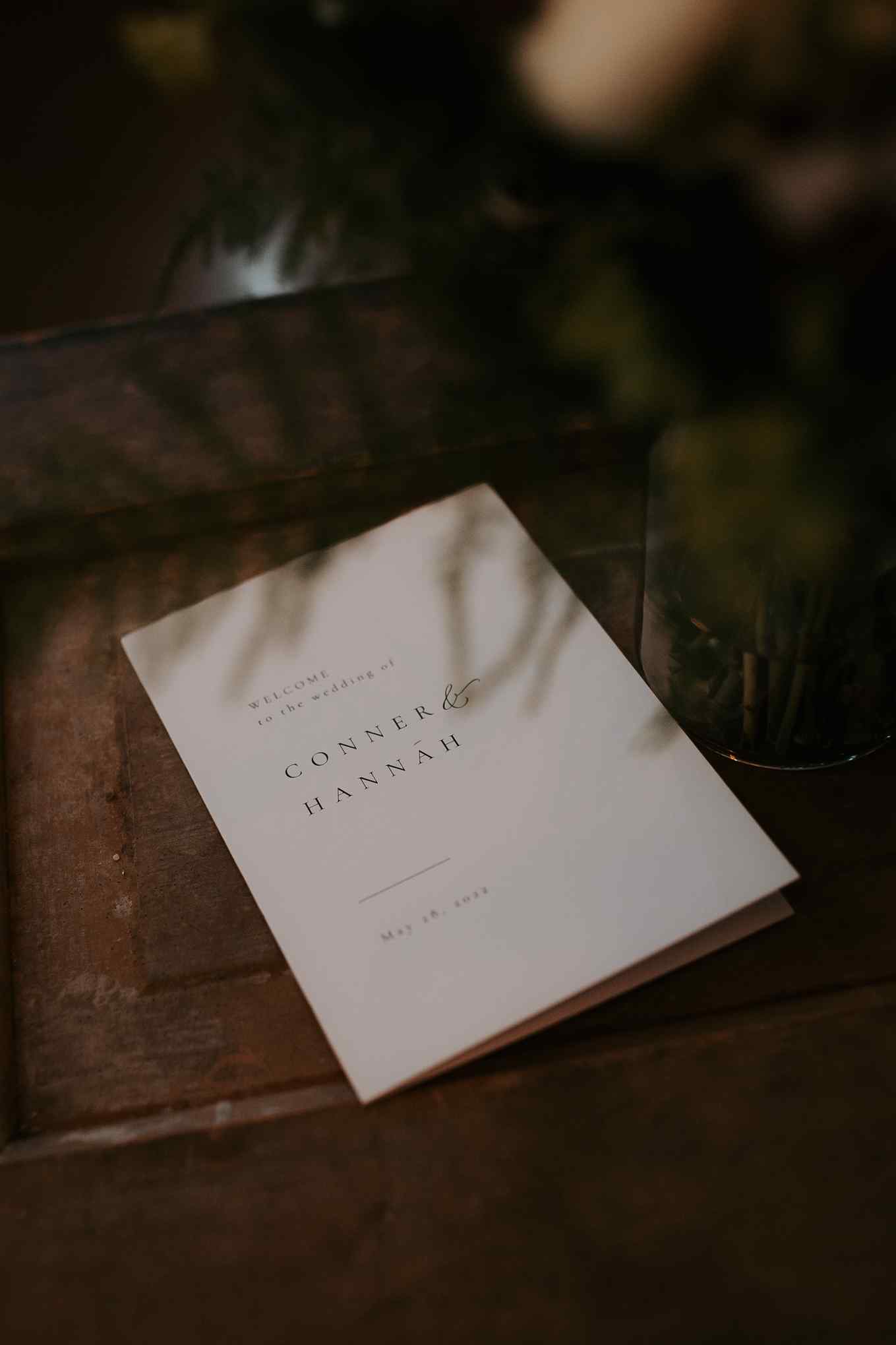 Bring that beautiful design experience to the day of the wedding. You may want to include small details such as folded wedding programs, unique place cards, dinner menus, signage for the guest book and gift table, and welcome signs. Keep the design of these items cohesive with your invites
Lastly…Don't get overwhelmed!
This is where I come in! As stated before, I can and LOVE to help with wedding suite designs but the beauty of the 21st century is that most things are DIY now. I love sites like Basic Invite that provide hundreds of templates for EVERYTHING we just discussed. All you need to do is plug and play!
I'm pleased to be partnering with Basic Invite on this informative blog post!
Scroll down for a limited-time discount code.
---
About Basic Invite
Almost Unlimited Colors- Basic Invite is one of the few websites that allows customers almost unlimited color options with instant previews online. Once they select a design, customers can change the color of each element on the card. With over 180 colors to choose from, the invite is sure to be exactly how they want it. This is what sets us apart from almost any other online stationery company.
Custom Samples- Basic Invite is one of the few websites that allows customers to order a printed sample of their actual invitation before they place their final order. They can see the paper quality and how it will print, and make sure the card is perfect.
Over 40 Different Colors of Envelopes- Basic Invite has over 40 different envelope colors to choose from. With so many options, customers can make their envelope match the invitation. All of the envelopes are peel and seal so they can be closed quickly and securely.
Address Capturing Service- Basic Invite offers an address-capturing service that allows customers to share a link on Facebook, Twitter, Instagram, or any other social media to request their friend's and family's addresses. The addresses are stored in the customer's account and can be selected during the design process. Basic Invite offers recipient address printing at no cost on all card orders.
Foil- Foil cards are available in gold, silver, and rose gold. Customers can choose flat or raised foil on all of Basic Invite's foil designs.
---
Questions?
Don't hesitate to reach out with any questions about wedding invitation suites! I'd love to chat about bringing your big day to life with beautiful, custom designs.
---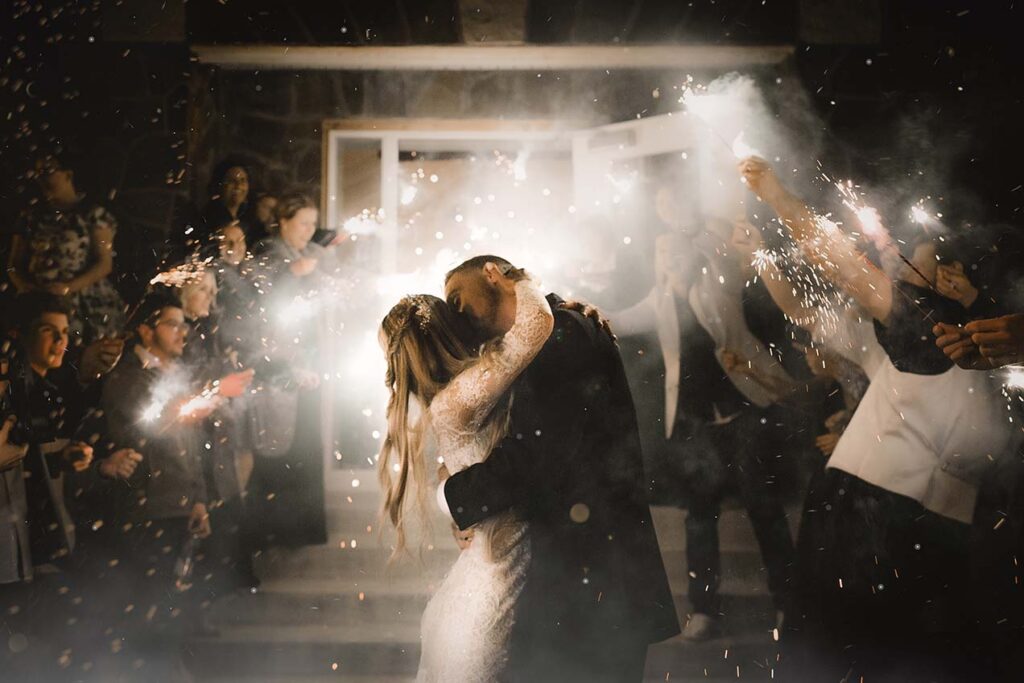 Are you Interested in me capturing your big day?
Whether you have been waiting for your wedding day since you were a little one or you never thought you'd be the one getting married…it's one of the most important days of your life (and probably your mom's.) Let's make it special!
Contact me today to get more info and pricing!